Political and Economic Foundations of Hate and Disinformation in Montenegro
The objective of this analysis is to provide institutions, civil society organizations, the media community and citizens with a better insight into the types and classification of media and communication practices through the content of which hate speech, disinformation and propaganda are spread, as well as to provide the public with a credible analysis, to serve as the basis for further activities of the SEENPM in building society's resilience to such phenomena.
This publication was produced within project Resilience: Civil Society for Media Free of Hate and Disinformation, run by South East European Network for Professionalization of Media (SEENPM).
Research is available in English and Montenegrin.
See also: Hate Speech and Disinformation Narratives in Montenegro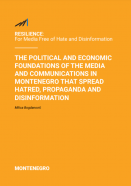 Download Political and Economic Foundations of Hate and Disinformation in Montenegro
Download POLITIČKO-EKONOMSKE OSNOVE MEDIJA I KOMUNIKACIJA U CRNOJ GORI KOJE ŠIRE MRŽNJU, PROPAGANDU I DEZINFORMACIJE