MONITORING REPORT ON HATE SPEECH IN BOSNIA AND HERZEGOVINA
Author: Lejla Gracanica
Publisher: Media Diversity Institute, Media Diversity Institute Western Balkans
Hate speech in the media in Bosnia and Herzegovina (BiH) is represented in different forms, in
different frequencies, and different intensities, but what is common, for all cases covered by this
monitoring, is that it always it always uses personal characteristics with the goal of targeting
individuals and groups. Using public space, especially online, hate speech is being introduced as
an unauthorised and almost normalised phenomenon.

While the grounds for spreading these narratives have been repeated for years through hatred
between ethnic groups and gender characteristics, a new wave of hatred has developed towards
migrants. Creating Otherness in every diversity that deviates from dominant narratives and social norms is no longer just a part of the work of certain media outlets, but now becomes the basic goal. For example, the Antimigrant.ba portal continuously reports on migrants in BiH, using hate speech and insulting words, inciting violence. Another example of persistent offensive reporting is the Ekran.ba portal, which reports on events from public and political life and their actors (and more often female actors), using very rude and offensive words such as "starlet journalist", "sponsor", etc.

In understanding the existing hate speech in the media, it is necessary to consider the formats in
which it occurs, the consequences it causes, but certainly whether there is an appropriate
response. While legislation in BiH is not harmonised with the EU acquis, existing legal and
regulatory mechanisms still do not provide sufficient protection or efficient regulation of hate
speech in the media. The prohibition of hate speech in online media is not monitored nor
enforced. The European Commission in its annual country report emphasises that authorities in
BiH need to take concrete measures to counter hate speech, particularly in official discourse.1
Research methodology expert: Snježana Milivojevic
Research methodology expert and editor: Stefan Janjic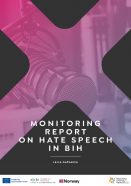 Download MEDIA MONITORING REPORT ON HATE SPEECH IN BOSNIA AND HERZEGOVINA
Download MONITORING IZVEŠTAJ O GOVORU MRŽNJE U BOSNI I HERCEGOVINI