Hate and Disinformation Models in Serbian Media
This research tried to establish how the financial and economic structure of the media market in Serbia affects the decline in the level of professional standards, the collapse of media autonomy and the misuse of disinformation and hate speech for propaganda purposes.
This publication was produced within project Resilience: Civil Society for Media Free of Hate and Disinformation, run by South East European Network for Professionalization of Media (SEENPM).
Research is available in English and Serbian.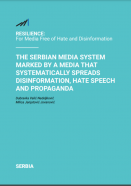 Download Hate and Disinformation Models in Serbian Media
Download MEDIJSKI SISTEM U SRBIJI OBELEŽEN DELOVANJEM MEDIJA KOJI SISTEMATIČNO ŠIRE DEZINFORMACIJE, GOVOR MRŽNJE I PROPAGANDU