Political and Economic Foundations of Disinformation and Hate Speech in North Macedonia
This analysis identifies the patterns of disinformation, propaganda and hate speech in the media and public communication in North Macedonia. The aim was to determine their structure and characteristics, political and economic support and their impact.
The analysis identified several media models, media groups and individuals who spread disinformation, propaganda and hate speech, predominantly in the online sphere, as traditional media outlets only sporadically published such content in 2019 and 2020.
This publication was produced within project Resilience: Civil Society for Media Free of Hate and Disinformation, run by South East European Network for Professionalization of Media (SEENPM).
Research is available in English and Macedonian.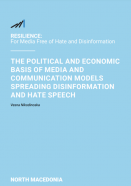 Download Political and Economic Foundations of Disinformation and Hate Speech in North Macedonia
Download ПОЛИТИЧКА И ЕКОНОМСКА ОСНОВА НА МЕДИУМСКИТЕ И НА КОМУНИКАЦИСКИТЕ МОДЕЛИ ШТО ШИРАТ ДЕЗИНФОРМАЦИИ И ГОВОР НА ОМРАЗА