MEDIA MONITORING REPORT ON HATE SPEECH IN MONTENEGRO
Author: Boško Nenezić
Publishers: Media Diversity Institute and Center for Investigative Journalism Montenegro
Montenegrin society has been witnessing different aspects of disinformation for
many years now, and in the past two years, many disinformation campaigns were combined
with hate speech and discrimination, creating an even higher level of polarisation among
Montenegrin citizens, while reducing the level of tolerance among many ethnic/national,
religious and political counterparts to a very minimum.
Just like the society, the Montenegrin media scene is also polarised, with rare examples of
independent and objective media. Media in the country repeatedly increase the gap
between the polarised sides, often broadcasting disinformation and hateful content, yet
those several objective media luckily remain the most popular and trustworthy source of
information for the majority of citizens. However, with the rise in popularity and use of social
and digital media, the intensity and variety of citizens' exposure to disinformation and hate
speech is harder to monitor and prevent.
Research methodology expert: Snježana Milivojevic
Research methodology expert and editor: Stefan Janjic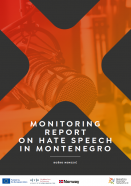 Download MEDIA MONITORING REPORT ON HATE SPEECH IN MONTENEGRO