Hate Speech, Propaganda and Disinformation in Albanian Media
The purpose of this paper is to highlight the main models and elements that media in Albania manifest regarding hate speech, propaganda and disinformation and also to identify ways of countering these narratives. The research focuses mainly on online media, as they are identified as the main carriers of disinformation and hate speech, with a few exceptions, but traditional media are also present.
This publication was produced within project Resilience: Civil Society for Media Free of Hate and Disinformation,run by South East European Network for Professionalization of Media (SEENPM).
Reasearch is available in English and Albanian.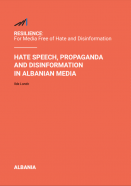 Download Hate Speech, Propaganda and Disinformation in Albanian Media
Download GJUHA E URREJTJES, PROPAGANDA, DHE DEZINFORMIMI NË MEDIAN SHQIPTARE