Hate Narratives in the Media and UGC in Bosnia and Herzegovina
In this research, examples of hate narratives are analysed to gain a better understanding of their origins, messages, and dissemination in Bosnia and Herzegovina after an overview and examples of the political-economic bases of hate, disinformation and propaganda models of media and communication in BiH were outlined in the previous report.
The case studies in this new research demonstrate that the mainstream media and the leading politicians in the country are one of the primary sources and disseminators of hate narratives towards the selected target groups, particularly towards migrants and refugees and the political opposition. Hate narratives also stem from user-generated content, particularly towards journalists and minorities, in this case Jews.
This publication was produced within project Resilience: Civil Society for Media Free of Hate and Disinformation, run by South East European Network for Professionalization of Media (SEENPM).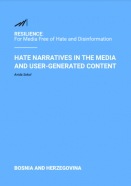 Download Hate Narratives in the Media and UGC in Bosnia and Herzegovina