HATE SPEECH IN THE WESTERN BALKANS: Monthly Monitoring Highlights
Throughout April, RDN monitoring team has detected diverse type of hateful narratives. This month we will have a country spotlight including five Western Balkans countries.
Roma in North Macedonia: Hate speech from high school teacher on International Roma Day
A teacher at the economic high school in Tetovo made offensive comments on her Facebook account towards the Roma community during the International Roma Day. In her post, she stated that she does not understand why Roma people are celebrated, and she further humiliated them by saying that they are lazy and that they want everything given to them without investing any effort.
"I do not understand why you feel so sorry for the Roma. There are some of them in my neighborhood and I know them very well. If they had a little more power, they would make us – Albanians – disappear. […] Nobody forbids their education; they do not want to work and they want everything given to them on a plate."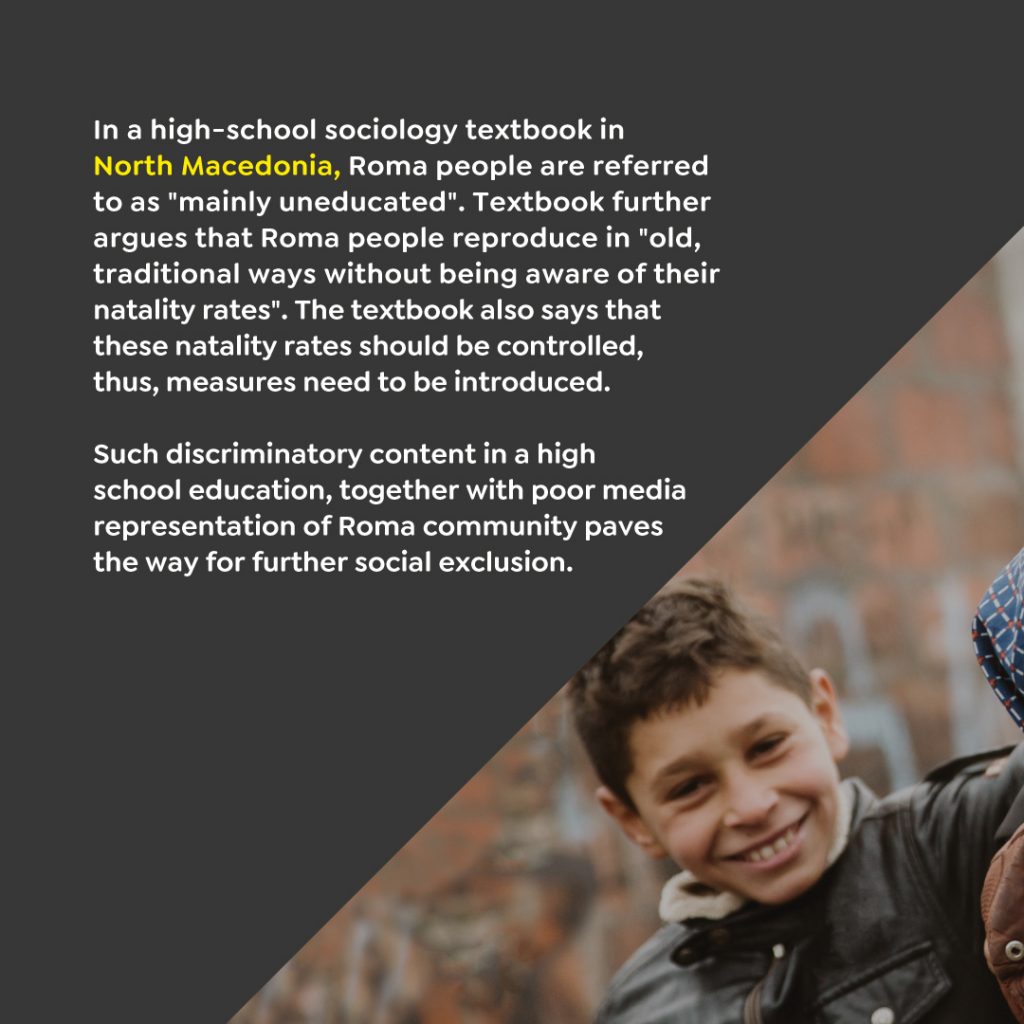 The fact that a high school teacher and a member of the educational community in North Macedonia made such comments hurts public discourse in the country and encourages hate speech towards the Roma community. Additionally, as an authority figure among the students, the teacher might incite and perpetuate further hate among younger generations of non-Roma students, as well as make Roma students feel even more marginalized than they already are.
In addition to this case, the media in North Macedonia recently highlighted some very stereotypical and dangerous definitions of 'Roma' in high school textbooks. Roma people are referred to as "mainly uneducated" and those who "reproduce in old, traditional ways" calling for measures to control birth rates within the Roma community.
Roma in Albania: Derogatory terminology and analogies to chaos and disorganized political and social context
During a prime-time TV show in which COVID-19 vaccines were discussed, journalist Enton Abilekaj, used the pejorative term "gypsies", which is offensive towards the representatives of the Roma community in the local Albanian context. During this incident, Enton Abilekaj was not targeting Roma people themselves, however, by using the term "gypsies" to refer to chaotic and disorganised practices he perpetuated an offensive stereotype and made harm created bad ideas about the Roma.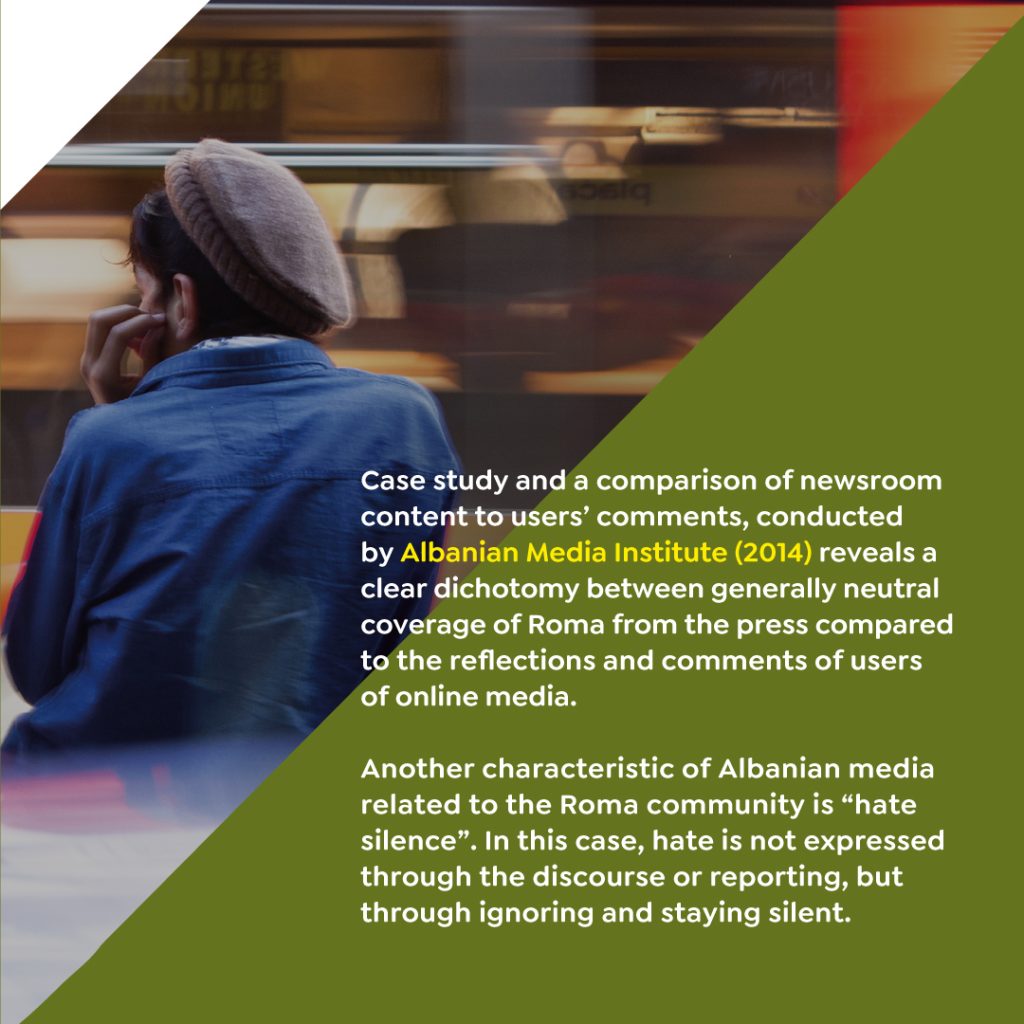 Olsi Sherifi, a Roma journalist, reacted to this by drawing attention and writing an informative article about the Roma community in the country in which he also mentioned the legal context. Reporting Diversity Network 2.0 partner in Albania- Albanian Media Institute highlights that it is a good practice that a Roma journalist acted and reacted on this incident. The reaction from a community member is most suitable and, in terms of the media, it is important to give platform to the voices of Roma professionals.
On 8 April 2021, Reporting Diversity Network 2.0 marked the International Roma Day in which the underrepresentation of Roma people in the media was highlighted as a concerning trend in all Western Balkan countries, including Albania. By giving the spotlight to Roma community members and associating them with negative stereotypes only further perpetuates the marginalization of the community in the media and the society.
Sexism in Kosovo: Basketball player, Milica Dabovic, subjected to sexist and nationalist speech for signing a contract with basketball club in Tirana
When basketball player Milica Dabovic announced on her Instagram profile that she had signed an agreement with a basketball team in Tirana, the web portal Kosovo Online which operates in the north of Kosovo, republished the news. Dabovic wrote on Instagram:
"New life, new goal, what a feeling! Finally my dream come true. I waited for so long. Thank you!"
Kosovo Online's republication of the news on their portal and later on their social media, caused Facebook users to use hate speech on the Facebook post's comments. Commenters used the words "bitch", "cow" and other derogatory names for Milica Dabovic.
Tangible tensions between Serbians and Albanians in Kosovo are obvious in most of the comments. In this particular context, basketball player Dabovic is being attacked for saying that her dream came true by getting a chance to play for a Tirana based club. For this, she faced numerous verbal attacks on social media. Among other names, she was called a traitor of her own nation.
Homophobia in Serbia: Homophobic hate speech on Serbia's national broadcaster's TV show "Happy"
Two guests of TV Happy's morning show who are public figures in Serbia -Miroljub Petrovic and Dragoslav Bokan – discussed the potential adoption of the Law on Same-Sex partnerships and LGBTQ+ rights. Petrovic and Bokan had several quite problematic statements that are considered hate speech and can even cause harm to the safety of the LGBTQ+ community in Serbia.
In their appearance Petrovic and Bokan also used some conspiracy theories. They said:
"The gay lobby controls finances in the world and the fastest way to get a job is not to finish school or college, but to become part of the LGBT population. And then you get a job fast".
In addition:
"The Gay Parade has nothing to do with homosexuals, it has to do only with people who want to destroy Serbia. Homosexuals are victims, they are Trojan horse".
These narratives that claim that the fight for equality of LGBTQ+ community is driven by an external agenda only removes the focus from the real problems and challenges that these marginalised communities deal with.
Moreover the comment "[a]ccording to the Bible, the death penalty is prescribed for homosexualism" can potentially incite violence.
All this happened on a TV show that was broadcasted on a television with national frequency, it was afterwards shared on TV Happy Morning show YouTube channel and had around 34056 views.
Media Diversity Institute Western Balkans, has had a public reaction that pointed out that this kind of speech is homophobia as well as pointed out at lack of reaction of both hosts and Regulatory Authority.
Bosnia and Herzegovina: Hate speech towards journalist Nidzara Ahmetasevic and migrant and refugee communities
In Bosnia and Herzegovina there were several incidents related to anti-migrant narratives which intersect with other incidents towards women and women journalists. The hate speech that comes from the website antimigrant.ba is not new to RDN monitoring team who selected this web platform as Balkan Troll of the Month earlier this year for spreading harmful and hateful rhetoric towards the migrant and refugee communities in Bosnia and Herzegovina.
Namely, this same website used derogatory characterizations towards journalist Nidzara Ahmetasevic, who was previously targeted by police brutality. The web portal named Ahmetasevic a ''pro-migrant mafia''. They also targeted the Facebook account of a solidarity platform Trans-Balkan solidarity and named them Transsexual solidarity and labeled them as pro-migrant mafia by alleging that they accuse citizens of Bosnia and Herzegovina for spreading COVID-19 towards the migrant communities.
The web portal antimigrant.ba has been reported to the local Press Council for numerous incidents related to hate speech.