Editor of the Antimigrant portal acquitted of Charges of Inciting Intolerance Against Migrants
Fatmir Alispahić, founder and editor of the Antimigrant portal, was acquitted of charges of inciting national, racial, and religious hatred, strife, and intolerance.
In the rationale of the verdict of the Court of Bosnia and Herzegovina, Judge Goran Radević explained that Alispahić was acquitted, among other things, because the Prosecutor's Office of Bosnia and Herzegovina in the evidentiary procedure failed to point out specific statements that provoke national, racial, and religious hatred.
The Prosecutor's Office of Bosnia and Herzegovina pressed charges in September this year, accusing Alispahić of publishing texts and videos through the website Antimigrant.ba and social networks in 2019 and 2020 that incite hatered towards migrants, including between peoples within Bosnia and Herzegovia.
Alispahić rejected the proposed plea bargain, which included a one-year suspended prison sentence and a fine of 1,000 BAM (around 500e).
He wanted to go on with the trial, basing his defence on the agument that the Antimigrant.ba portal was a platform used to inform the public about the migrant crisis in Bosnia and Herzegovina. During the trial, he testified on his own behalf, saying that in 2018, he was the first to point out the inhumane conditions in which migrants live.
In the form of evidence, the Prosecution presented the author's texts as well as other media posts published on the Antimigrant.ba portal. In one of those texts, he stated that "ISIL migrants are being transported to Bosniak majority areas to complete the genocide against Bosniaks."
The contents published in other media are often reposted under provocative headlines on the portal, including the story about hosting migrants in Zavidovići headlined/titled: "There is no humanity in betraying the homeland!!! A Bosniak from Zavidovići hosted migrant bandits!"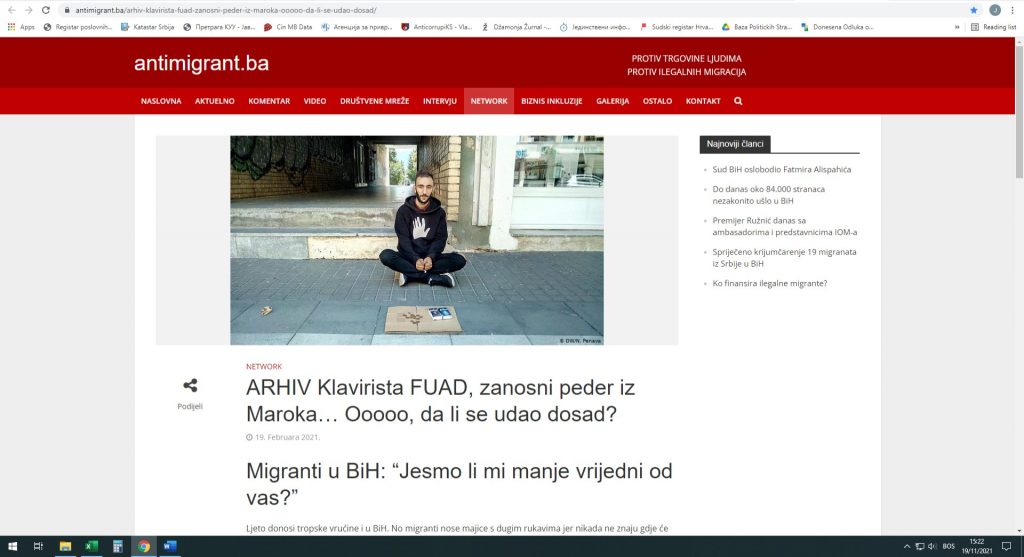 Early this year, portal Antimigrant.ba reposted one of the articles of Deutsche Welle (DW) about three highly educated migrants whom their reporter met on the streets of Sarajevo. One of the migrants mentioned in the text was Fuad, a piano teacher from Marocco, who was not able to find a job in his country because he was gay. Antimigrant.ba published the text in its entirety, furnishing it with an insulting headline "Pianist Fuad, an enchanting fag from Morocco… Ooooo, has he married yet?".
Humanitarian activists and journalists who fight for the rights of migrants and refugees are often targeted by the antimigrant.ba portal.
Neither the accused nor the prosecutor were present during the sentencing. (As this is the first-instance verdict, there is a possibility of an appeal).
Authors: Ibro Čavčić, Jasna Fetahović
Photo: Gorodenkoff/ Shutterstock